LED lights to soon get star-rating labels based on efficiency and standards set by the Bureau of Energy Efficiency India!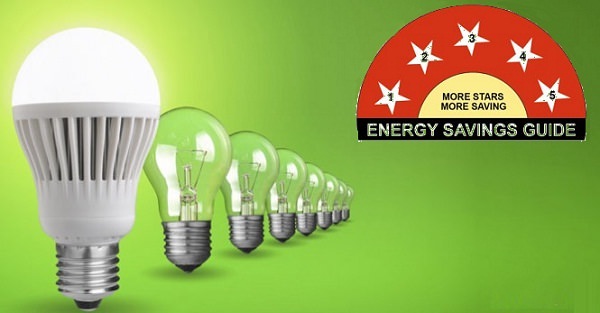 Immense benefits of LEDs have spurred people to switch from traditional lighting to energy-efficient LED lighting products. But the problem is, a large number of manufacturers are tapping into this potentially lucrative market and not all of them provide quality products. So, to help people choose quality energy-efficient products, the Bureau of Energy Efficiency (BEE) has come up with standards for LED Lights. Based on these standards, LED lights will get affixed with BEE Energy Star Rating labels, so that purchasers can compare the energy efficiency of different models.
The two main parameters that determine the efficiency of LED lights are: 'Watt' and 'Lumen per Watt'. Watt indicates the amount of energy used by a lamp, while lumen per watt denotes the amount of light generated by a lamp for each watt of electrical power consumed. However, when it comes to comparing the efficiency, lumen per watt is a better tool as the actual light output with same wattage can vary widely among different models.
Under its labeling program for LED lights, BEE will consider lumen per watt as deciding factor to rate. Like any other product or appliance, these lights will also be rated in stars ranging from one to five. That means, more is the number of stars, more is the energy efficiency of the lamp.
Proposed BEE standards for LED Lights:
| | |
| --- | --- |
| Lumen per Watt | Star Rating |
| Less than 79 | 1 |
| 79 – 90 | 2 |
| 90 – 105 | 3 |
| 105 to 120 | 4 |
| More than 120 | 5 |
All LED lights and fixtures are generally perceived as highly energy-efficient ones. But, if evaluated using BEE standards, a large number of these products will fall into 2 or 3 star rated category for efficiency. This clearly indicates that there's still a long way to go for manufacturers to achieve a 5-star rating.
Under the BEE scheme for LED lights, it will become compulsory for manufacturers to affix efficiency star labels on their products. Initially i.e. until December 2016, manufacturers would be allowed to apply for BEE ratings on voluntary basis.
Energy efficiency is not the only factor to be considered. BEE will also make sure that products are safe to use. So the manufacturers will be required to comply with various standards such as photo-biological safety to improve their product's rating.
In short, implementation of BEE's labeling program for LED lights will provide the consumers with an easy way of comparing and selecting the best performing products. And this in turn will surely have a substantial positive contribution towards government's aim of replacing incandescent and CFL lights with LED lamps throughout the nation.
Recommended Read: All You Need to Know About BEE Star Rating in LED Lights
Save
Save