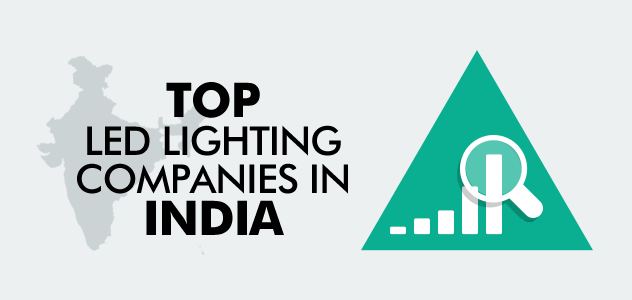 The ever increasing demand for high quality LED light has encouraged many lighting manufacturers in India to enter this industry. In fact, a lot of companies are currently offering a wide range of LED lighting products that are immensely efficient and eco-friendly when compared to standard incandescent lamps (ICLs) and fluorescent lamps (FTLs/CFLs). In spite of the fact that these LED lights are quite expensive than the other conventional lights, nowadays more and more consumers are preferring LEDs because they have longer life span, use lesser energy, and more importantly they are easy to maintain. Hence, there is no doubt that LED lighting holds a very promising future in India.
On the basis of a research, Frost & Sullivan (a famous business consulting firm) has even claimed that by the year 2021, the LED technology will penetrate a whopping 57 percent of the lighting market in India. Now, let's take a look at the list of the companies mentioned below. These are the top LED Lighting manufacturers in India.
Top Brands of LED Lights in India
1. Philips Electronics India Limited
Philips Electronics India Limited, a subsidiary of the very popular company named Royal Philips Electronics (headquartered in Netherlands), is one of the most popular and well-known brands among Indian consumers. Philips has been operating in India for more than 75 years and its key business areas include Luminaires, Lamps, Lighting Electronics, Automotive and Special Lighting. The company has around 4,500 employees across the country. Moreover, Philips has a superb pan Indian distribution and after-sales service network too.
Philips is also a leader in LED lighting. It offers a huge collection of LED products in various categories like GreenLED, Professional Luminaires, Lighting Electronics, Lifestyle modular switches with protective technology, Home Decorative Lighting collection, etc. All of these products are made with most advanced and innovative technology, and hence they are known to enhance the quality of consumer's professional as well as personal lives.
In the year 2011, Philips won the L-Prize competition and got a huge $10 million cash prize for manufacturing a high-efficiency, durable replacement for the standard 60-W incandescent light bulb. The winning LED light bulb is currently available to customers. It produces around 900 lumens of light at an input power of just 10 W.
Philips is the world leader in LED and sports lighting. Last month the company launched Philips ArenaVison LED – the first LED pitch lighting system to guarantee flicker-free super-slow motion for HDTV – meeting the stringent broadcast criteria of UEFA and FIFA. In Brazil, nine out of the 12 stadiums which will be used this summer for the soccer tournament will feature lighting from Philips.
Philips LED Products Type: Bulbs, Wall Lights, Ceiling Lights, Tube Lights, Spot Lights, Downlights, Desk/Table Lights, Suspension Lights and Decor Lights
Applications: Homes, Offices, Industries, Retail, Hospitality, and Outdoor
Website: Lighting.Philips.co.in
2. OSRAM India Pvt. Ltd.
OSRAM, the German Lighting Expert, is considered to be one of the world's leading players in the global lighting market. This company has been supplying innovative and sustainable lighting solutions for more than 100 years. OSRAM has branches in more than 150 countries and employs approximately 41000 employees worldwide. Currently, the company is providing a wide-range of around 5500 products for numerous applications in homes, workplaces, industrial units, and even on the roads. All of these products are not only energy-efficient but also environment-friendly.
OSRAM India – a wholly owned subsidiary of OSRAM GmbH – was established in the year 1994. The head office is located in Gurgaon (Haryana) and their plants are located in Sonepat & Kundli. OSRAM India has been manufacturing several innovative and best-in-class products for General Lighting, Electronic Control Gear, Automotive Lighting, Display Optics and Light Emitting Diodes (LEDs). They are widely known for their extensive range of LED products including Indoor LED luminaries, Outdoor LED luminaries, Lamps, Modules, LED retrofit lamps, etc.
At present, OSRAM India has more than 800 employees and an annual income of over 3 billion rupees. Moreover, the OSRAM plant located in Sonepat is awarded with the Best4 (Business Excellence Sustainability Task) Integrated Management certification by RINA. Access to this certificate indicates that the company meets all the requirements of the ISO 9001 (quality), ISO 14001 (environment), OHSAS 18001 (health and safety) and SA 8000 (social accountability).
Osram LED Products Type: Lamps, Spot Lights, Tube Lights, Pendant Luminaries, Wall Luminaries, Ceiling Luminaries, Batten Luminaries, Deco Lights, Under Cabinet Lights, Recessed Luminaries, Floor Luminaries, Table Lights, Night Lights, String Lights, Flood Lights & Spots, Camping Lights, and Street Lights.
Applications: Home, Office Buildings, Industrial Buildings, Retail, Hospitality and Outdoor
Website: osram.in
3. Havells India Ltd
Havells Group is a well-known name in the field of electrical products and its accessories. In the year 2007, Havells created history by acquiring the world-renowned lighting company named Sylvania and by doing so the company registered itself amongst top five lighting companies in the world. Today, Havells possess some of the most prominent international brands such as Crabtree, Luminance & Standard, and Concord. It has over 5000 employees across 94 branches or offices in more than 50 countries. Plus, Havells has 7 manufacturing facilities located at Latin America, Europe and Africa.
Established in the year 1960, Havells India Limited has become the top-most electrical equipment company in India. It can be said that the company is literally enjoying the market dominance across a huge range of products including Cables & Wires, Fans, Industrial & Domestic Circuit Protection Devices, Motors, Modular Switches, Electric Water Heaters, Home Appliances, Luminaires for Domestic, Commercial and industrial Applications, etc. In India, there are 14 state-of-the-art manufacturing plants, situated at Haridwar, Faridabad, Noida, Baddi, Alwar, Noida, and Neemrana.
In the year 2010, Havells entered the Light-Emitting-Diodes (LED) Market. And today, Havells is one of the leading LED lighting manufacturers in India.
Havells LED Products Type: Lamps, Spot Lights, Down Lights, COB Fixtures, Decorative Wall/Ceiling Lights, Tube Lights, Landscape Lights, commercial lights and street lights.
Applications: Homes, Offices, Retail Spaces, Streets and Industries
Website: havells.com
4. Wipro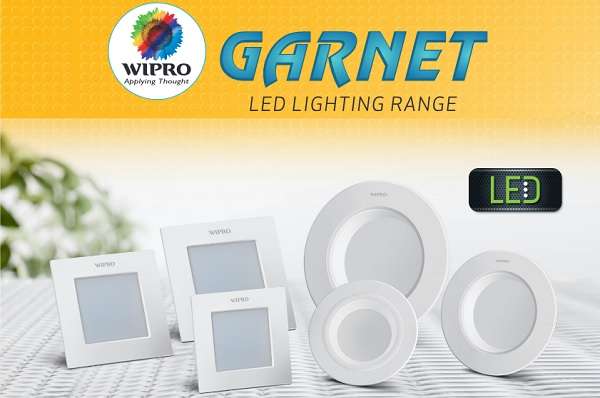 Founded in 1945 as a Vegetable Oil Company, today Wipro becomes the No. 1 lighting company in the area of Landscape Lighting. Also, it is No. 1 lighting suppliers to new generation petrol retail outlets. Wipro lighting is one of the fastest growing lighting companies in India. With unique design and high lumen output, Wipro brand offers green by design and energy efficient LED luminaries and lamps for different commercial & industrial application areas like modern work spaces, manufacturing & pharmaceutical companies, designer petrol pumps and outdoor architecture. For entertainment, architectural and retail applications, Wipro lighting offers amazing color mixing LED range to get unlimited color palette with notable energy efficiency. So just enhance indoors or outdoors building facades, water features and focal displays with Wipro's new era of colored light generation.
Wipro LED Products Type: Bulbs, Down Lights, Recess/Surface Mounted Luminaires, Suspended Luminaires, Linear Lamps, Desk Lights, Batten Lights, Flexible Strip Lights, and Street Lights
Applications: Residential, Work Spaces, Retail Spaces, Industries, Landscapes and Streets
Website: wiprolighting.com
5. Bajaj
With over 75 years of experience in lightings, Bajaj Electricals brings world class lighting products with revolutionary LED technology to dazzle India. It is leading consumer durable company of India as well as it has pioneered in street lighting and rural electrification by providing special Solar & LED lightings solutions for major lighting & engineering projects of the country. The key benefits of Bajaj LEDs are long life, energy efficiency, eco-friendly lighting, multi-colored light sources, and an inbuilt voltage surge protector. Special attention has been given to create full experience from the product, and consumers are provided with helpful service and communication at all levels to interact easily with this new technology. Even, Bajaj has launched the LED campaign 'The Science of Light' to create awareness about LED products and will start full-fledged mass media campaign very soon.
Bajaj LED Products Type: Bulbs, Down Lights, Spot Lights, Tube Lights, Flexi Strips, Highbay Luminaires, Street Lights, Landscape Lights, and Flood Lights
Applications: Residential, Workspaces, Retail spaces, Industries, Landscapes, and Streets
Website: bajajelectricals.com
6. Eveready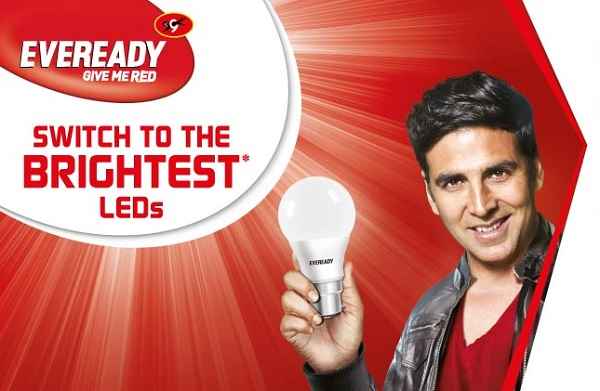 Eveready is owned by the Kolkata-based Khaitan family and became hundred years old in 2005. It is famous name for dry cell batteries in India and controls over half of the country's battery market. Also, it offers huge variety of lighting products to satisfy all types lighting needs of the urban as well as rural consumers. Currently, it also has started LED lighting business offering best in class LED bulbs at very competitive prices. However LED lighting manufacturing is done in China through an outsourced contract, it maintains all required standards for important lighting features like high lumen output, long life-span, etc. Thereby, it would be a great choice for domestic as well as commercial applications alike.
Eveready LED Products Type: Bulbs, Spot Lights, Down Lights and Deco Lights
Eveready LED Flashlights: DigiLED Torches, UltraLED Torches
Applications: Living room, Bedroom, Hotels, restaurants, bars, cafés, Lobbies, corridors, stairwells, washrooms, reception areas, display cases and cabinets, Art galleries & Museums.
Website: evereadyindustries.com
7. SYSKA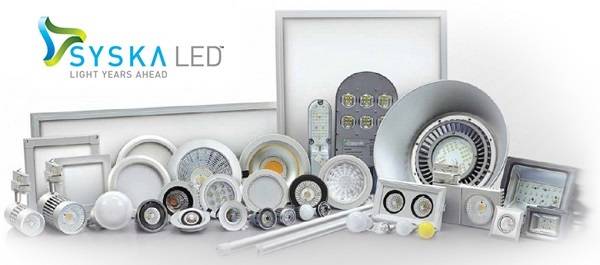 These days, so many interesting TV ads of Irfan Khan for SYSKA product line are rolling over the TV. You might have seen them while watching your favorite TV programs. The brand is just two decades old still can make a clear edge in today's LED lighting market for its smart innovation, fair pricing, advanced technology, remarkable energy efficiency, and high durability. SYSKA LED lighting offers simple, long lasting and international quality lighting solutions, applicable to almost every segment. SYSKA LED Lights are available in overall lighting product range, offering so many choices to use effective and energy-efficient LED lighting tools more and more also allows flawlessly combining of them with conventional products. When it comes to quality, almost all SYSKA LED products meet global standards also they are UL certified bearing LM 79 test report.
SYSKA LED Products Type: Lamps, Tube Lights, Down Lights, Panel Lights, Strip Lights, Multibox Lights, Track Lights, Moisture Proof Lights, Flood/Beam Lights, Hi-bay, Tunnel Lights, Industrial Lights, Portable Lights, Corn Lights, Street Lights, Garden Lights Black/White, Garden / Wall Lights, Parking Lights
Applications: Homes, Offices, Industries, Retail Spaces and Outdoor
Website: syskaledlights.com
8. Oreva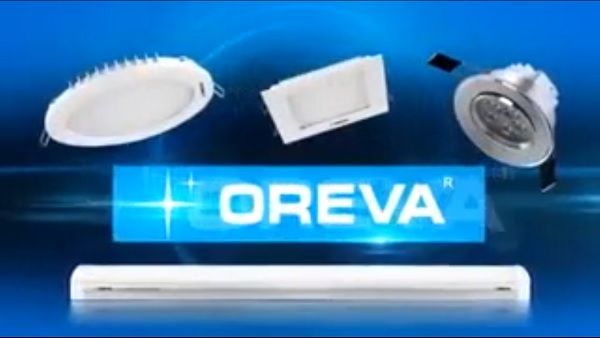 Ajanta Quartz was considered to be one of the world's largest clock manufacturing companies. Later, this Gujarat-based group was diversified into Lighting & Ceramic products under the brand OREVA and its latest project is LED lamps. Switches, wires, MCBs (multi circuit breakers), lamps, tubelights, power savers, telephones, calculators, watches, etc. are produced by the same group. Power saver to the Nation – the tagline can easily justify its production of LED lights.
Holding large integrated manufacturing facility in Samakhayali (Dist. Kutch) and Morbi (Dist. Rajkot), the group provides employment over 6000 people. For the last 14 years, Oreva manufactures CFL lights at its plant in Morbi and began manufacturing LED lights in last July. According to Business-Standard Oreva has achieved manufacturing capacity of 10,000 units per day with the investment of 75 crore. The goal of company is to provide value-for-money products rather than premium products so it can offer LED lights in India at affordable prices to end customer.
Overa LED Products Type: Lamps, Night Lamps, Down Lights, Panel Lights, Spot Lights, Tube Lights, and Street Lights
Applications: Residential, Offices, Work Shops, and Outdoor
Website: oreva.com
9. Moser Baer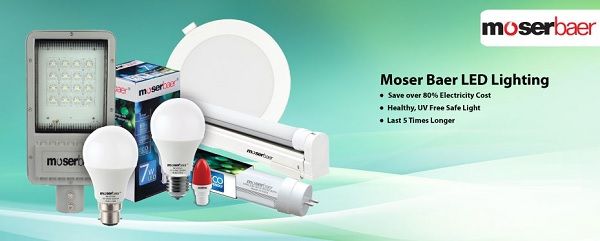 Worldwide, Moser Baer is well-known for optical storage media like CDs and DVDs and it is the first to market Blu-Ray discs in India. Recently, this 19,000-crore technology group diversified to LED-based lighting segment, launching an exciting range of home and office lighting.
Best of all, it pledged in November, 2014 to save 50 MW of energy through its energy efficient LED lighting technologies in two years. To fulfill the pledge, it entered into a strategic partnership with snapdeal.com – one of the largest online marketplaces in India – to market its LED products. The partnership is not only limited to promote LED products, but also comes with 6 months campaign – 'Energy bacchao, aache din lao – a RWA Abhiyaan' for complete awareness in consumers regarding notable benefits of LED lighting. In the campaign, Moser Baer introduced its exciting and complete range of LED products – bulbs, down-light, tube light, high-bay light, street light and panel light at competitive market price. All hold high-efficacy of over 100 lm/w and using special technology, its new-series offers rich and vibrant color with no IR and UV component. It provides better thermal management with unique heat sink design. Also, it offers various types of LED street lights ranging from 10 W to 150 W.
Ramdas Patil M, head of Noida-based Moser Baer's SSL business unit, stated in talk with sourcingelectricals.net that they want to acquire at least 10% of the country's LED lighting space within 4 years and they are focusing on areas like leisure and comfort, hotels and resorts, tourism, monuments and architecture.
Moser Bear LED Products Type: Bulbs, Panel Lights, High Bay Lights, Street Lights, Down Lights and Tube Lights
Applications: Homes, Offices, Retail Spaces, Industries and Outdoor
Website: shop.moserbaer.in
10. Surya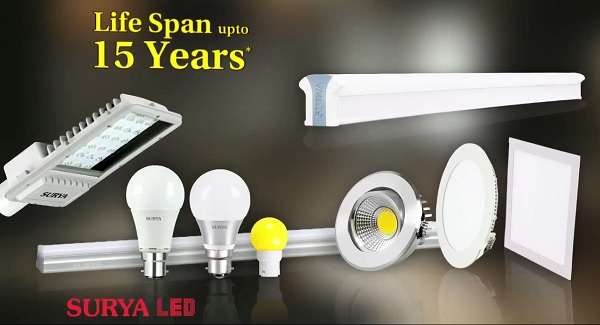 Surya Roshani is just ranks after Phillips when it comes to the light. The market is already flooded with more than 50 LED products of Surya Roshni, however the company is planning to launch more than 50 new Led Lighting using top quality LED chips from Nichia, Japan in the next 3-4 months. A wide range of LED products are mercury-free and work in the voltage range of 110V to 300V. Surya LED lamps help save up to 96 % energy and holds life of 25000 Hrs. They just attract users for its matchless design, versatile size and availability in wide category list. Very few brands in India have its own LED Lamps & Luminaires in house manufacturing capabilities and Surya Roshni is one of them. Its product manufacturing done at Surya Technology & Innovation Centre (STIC) at Noida, which is NABL accredited and one of the most advanced state of the art lighting laboratory & research centre with specific focus on LED.
Surya LED Products Type: Lamps, Spot Lights, Battens, Decorative luminaries, Down Lights, Strip Lights, Street lights, Facade lights, High-bays luminaries and Linear Lamps
Applications: Residential, Retail Spaces, industries and corporations
Website: surya.co.in
9 Other Emerging LED Lighting Companies in India
1. GE Lighting
GE is one of the most popular companies in the world. For more than a century, this company has been serving worldwide customers and communities with a range of innovative products and services. GE Lighting, a division of GE, is a leading supplier of lighting products in the global market. The company provides a superb collection of highest quality LED products, Lamps, Luminaries and Control Gears, for energy-efficient lighting of almost any environment. It employs around 15000 people in over 100 countries around the world.
Back in the year 1992, GE Lighting India was established to produce as well as market the complete range of light sources along with their components. Since then, the company has been marketing a wide range of best-in-class, energy-efficient and superior quality light sources and luminaries in India and its nearby countries under the brand names – GE and Cema. Currently, the business is offering a range of LED products, Luminaries, Lamps and Controls for various application areas including Automotive, Office, Roadway, Sports, Retail, Signage, Stage and Studio.
Recently, a competition called 'The 2013 Next Generation Luminaires (NGL) Solid-State Lighting Design Indoor Competition' was held to recognize brilliance in energy-efficient LED commercial unit design. In this competition (sponsored by the U.S. Department of Energy), GE Lighting company won recognition for three of its products, namely Albeo ABHX Series LED High Bay lighting fixture, Lumination EL Series LED Luminaire and the GE Luminaires – IP Series fixtures.
GE LED Products type: LED decorative lamps, Indoor replacement lamps, Dimmable Replacement Lamps, LED directional lamps, Linear tube, General & decorative Luminaires, Display case lighting, Industrial high-bay lighting, Flood lights, Area/Site lightings, LED panels
Applications: Retail, office, roadway and street, automotive, home, education, special lighting, Industrial lighting, Stadium Lighting, healthcare lighting, museum displays, airport terminals, and hotel lobbies
Right now GE light LED lighting consumer products are not available in Indian market. We soon expect availability of consumer products from GE LED lighting in India.
Website: GE.com/in
2. Charlston
Charlston may sound strange, but this very new brand has lots of things in its bag that makes it stand alone in the fast growing LED market of India. It steals the limelight by offering unmatched warranty of 5 years and more than 10 years of service life. You just forget other leading brands, as Charlston LED Lighting offers high MTBF power supply for long life (> 50000 Hrs) at the same comparative rate. It amazes users with its selective range of energy saving, long lasting & elegantly designed LED Lighting solutions for all residential, commercial and industrial application areas. Charlston LED product line is fully tested for Indian Environment up to 45°C also comes with UV proof strong optics. They can give remarkable lighting experience with more than 160 Lumens per watt, CRI Index > 85 for superior color rendering and Power factor > 0.9. For creating Outdoor lighting products, it focuses on strength while it offers unique modern look and designs to match with your interior.
Simplicity matters a lot, when the new LED technology confuses people for selecting the right one based on their different needs. Charlston lights facilitates users to calculate number of LED lights and total Lumens or watts required as per the type and size of the room using its Light requirement calculator also they can easily calculate energy saving within a click using energy usage calculator. These important aspects help potential customers in finding the exactly right LED Lighting solutions.
Charlston LED Products Type: Bulbs, Down Lights, Spot Lights, Pendant Lights, Street Lights, and Post Top Lights
Applications: Residential, Offices, Industries, Landscapes and Outdoor
Website: charlstonlights.com
3. NTL Lemnis
NTL Lemnis is a JV between NTL Electronics India & Lemnis Lighting of Netherlands, established in April 2012. The company designs, manufactures and sells energy efficient LED lighting solutions under the "Pharox" brand. Lemnis is the mass suppliers of domestic LED lamps, especially in Europe while NTL is India's largest manufacturer of electronics lighting products. It was the first LED bulb manufactured in India also in the world. Its productions held across Africa, Europe and India. It has capacity to make 16 millions electronic products per month.
NTL Lemnis LED Products Type: Retrofit lamps, Ceiling lights, Track Lights, Spot Lights, Flexible LED strips, Street Lights, Flood Lights and Tube Lights
Applications: Homes, Offices, Retail Spaces, Industries and Outdoor
Website: NTL-Lemnis.com
4. Reiz Electrocontrols Pvt Ltd
Reiz Electrocontrols Pvt Ltd is a premium manufacturer and provider of luminaries and lighting products in India. Reiz was started back in the year 1987 and it was the first company to introduce the high quality electronic fan speed regulators, transformers and dimmers for halogen lamps in India. Another impressive thing about Reiz is the fact that the company entered the LED lighting market at that time when no one else did. And today, they are the leaders in LED business. Reiz is the expert maker of energy efficient, fire retardant and intelligent LED luminaires in an extensive range.
The Reiz Head Office is located in New Delhi while its manufacturing plant is situated at Gurgaon where the company manufactures a wide range of high-quality LED outdoor luminaires, indoor lights, electronic control gear, electronic LED modules and LED drivers. Plus, there is another factory which is especially dedicated towards the incorporation of thermal, optical and electronic engineering into the finished LED-based luminaires.
Reiz Electrocontrols LED product types:
Indoor: Downlights, Directional spots, Wall Washer, Ceiling Mounted Downlights, Track Luminaires, Wall Mounted, Suspension Luminaires, Task Luminaires
Outdoor: Inground burial, Recessed floor washers, ceiling recessed, Wall Recessed, Wall mounted, projector Luminaires, Pathway Luminaires, Pole Top Luminaires, and Linear
Applications: Homes, Offices, Retail world, Outdoor spaces
Website: Reizindia.com
5. MIC Electronics Ltd
MIC Electronics Ltd, an India-based company, is a leading global player in design, development, production and sale of LED lighting as well as LED display systems. Currently, the company is very active in the market of LED displays (video, animation, text and graphic). These high-quality MIC LED video displays are being used in various areas like Transportation Hubs, Sports & Games, Advertisements and Public Information Displays, Digital Theatres, and Theme parks.
MIC Electronics was founded in the year 1988 and headquarter of the company is located in Hyderabad. It has an extremely wide range of products to offer in the LED lighting category.
The company has nationwide presence through its vast network of marketing, sales and service support centers that are located in all metros of the country. Furthermore, to meet the demand of its products worldwide, the company has set up offices in USA, Korea and Australia. And nowadays the company is gradually setting up the operations in other global markets too.
MIC Electronics LED products type: Area light, Down light, Tube lights, Bulbs, Street Lights, parking lights, portable lights- Lanterns, industrial lighting, solar lighting
Applications: Indoor lighting, Outdoor lighting, Solar lighting, Street lighting, Railway lighting, Portables, Industrial & Commercial, and Domestic lighting.
Website: Mic.in
6. Innovlite India Private Limited
Innovlite is also a leading player in the field of LED technology. The company was founded in the year 2005 and it's headquarter is based in Bangalore. Currently, the company is providing high-quality LED lights and luminaires for the following sectors: Consumer lighting (urban and rural), Commercial lighting and Government lighting (including street lighting). Innovlite's manufacturing and design facilities are located in Bangalore.
The company offers really a wide range of general as well as specialty LED lighting solutions. And all of these products are highly energy-efficient and durable lighting solutions, which eventually help create a clean, green, and healthy environment in every segment of the society. The company has successfully manufactured and commercialized the HB (high-brightness) LED-based solar and emergency lights in semi-urban as well as rural areas, street lights, and interior lighting in homes and offices. Innovlite has bagged several large orders from leading Indian and multi-national companies for design, manufacturing and supply of lighting systems. Above all, Innovlite is an OEM (original equipment manufacturer) supplier of LED lighting solutions to India's key solar PV/thermal manufacturers.
Innovlite LED products type: Lanterns, Advanced lanterns, torch, table lamp, down light, 2×2 luminaires, street lights
Applications: Consumer lighting (urban and rural), Commercial lighting and Government lighting (including street lighting).
Website: innovlite.com
7. Sanarti Group
Started in the year 1987, Sanarti Group is headed by a creative cum innovative technocrat from IIT Delhi – Mr. Sanjeev Khosla, who has more than 30 years of rich industrial experience. The company has led to the development of LED lighting products in India. The current focus areas of the company include: next-gen of LED lighting products, increased range of Solar PV and Thermal products, and integrating solar energy with Solid State Lighting projects enhancing the use of renewable energy with efficient and effective consumption of energy.
Sanarti Group offers an extensive range of high-quality LED Luminairies for Outdoor Lighting as well as Indoor Lighting purpose. All the products are certified by 3rd party NABL accredited labs such as UL and ERTL. Moreover, the company has an internal Intellectual Property Management Department which supports its development of patent applications, recognizes potential new products and markets for its LED Lighting products, files patents, and also provides support to all kind of research activities.
This LED lighting company is claimed to have the largest installation base of LED lighting units in the world (including Intelligent Signals used on Railways). In addition to this, the company has many more achievements like it is the first ever company to manufacture LED signals that functions on just 4 Watts and 600V immunity, to introduce LED Head Light for EMU & Locomotive, and to hold more than 50 patents and design registrations from the Government of India.
Sanarti Group LED products type: LED Solar Street Light, Street Light, Down Light, Flood light, Tunnel light, Fence light, Roadway Lighting, hording lights, Flame proof lighting (WIP)
Applications: Offices, Residential, Industrial, Railways and Airports, Indoor Bay Lights, Hotels, Hospitals
Website: sanartigroup.com
8. Goldwyn Ltd
Goldwyn Ltd is an ISO 9001: 2000 quality certified Public Limited Company. It was founded in the year 1991, and since then it has been engaged in design and manufacturing of LED lighting and fixtures. Goldwyn offers a variety of LED lighting fixtures for various applications in Offices, Residential, Industries, Railways and Airports, Hotels, Flood Lighting, Hospitals, Landscapes, Security, Commercial, etc. All these lighting fixtures are aesthetic, reliable, safe, energy efficient, non-toxic and environmental friendly. They also undergo rigorous test under extreme temperature and humidity conditions to ensure reliability of the products in all operating conditions.
Goldwyn ensures high quality of LED lighting fixtures by controlling the design and production of critical components like optical lenses and electronic drivers in their own manufacturing plant located near New Delhi, India. Moreover, the company has an in-house state-of-the-art photometric laboratory, which allows it to monitor all vital measurements of the light output of the LED lighting fixtures. The company headquarter is located in Noida.
Goldwyn LED products type: Down light, High-bay, Low bay, Street light, Glimble lights, extra flat ceiling and wall luminaire, high mast/ Area light, focus light, façade light, flood light, wall mounted light, LED panel
Applications: Offices, Residential, Industries, Railways and Airports, Hotels, Flood Lighting, Hospitals, Landscapes, Security, Commercial
Website: goldwynled.com
9. Laaj Lighting
Laaj Lighting is a leading manufacturer and supplier of high-quality LED lighting products in India. It is a subsidiary company of Jagwani Projects Pvt. Ltd (JPPL) that has been in this business for more than 25 years. This India-based company has entered the LED lighting industry with an aim to become the leading provider & supplier of LED solutions in the country. Right now, the company is providing a wide range of LED lighting products including Indoor lighting, Outdoor lighting, Decorative lights and Chandeliers. Moreover, JPPL has first-class infrastructure facility, advanced machinery and equipment, and a dedicated R&D team, all of which eventually help the company to produce premium LED lighting all year long.
Laaj Lighting LED products type: Bulb, Tube light, Panel Down light, Panel light, Bay light, Spot light, Flood light, Street light,
Applications: Offices, Residential, Industries, Commercial, Outdoor lighting
Website: laajlighting.com
Please note that list for LED light manufactures in India is notably big, and we have listed some selective names to help you in making right decision. You can explore more options given below, if you are conscious about price instead of quality.
List of non-branded LED companies in india
Recommended Read: