Energy Efficiency Services Limited (EESL) joins hands with Snapdeal to sell government subsidized led lights nationwide online for just Rs.99!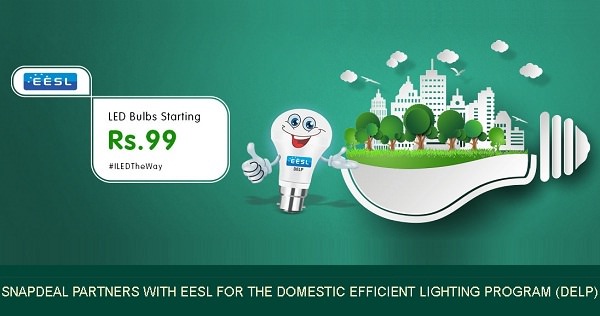 The Indian Government is leaving no stone unturned to promote energy-efficient LED lighting in domestic sector. A recently launched campaign called #ILEDTHEWAY is inspiring more and more people to swap incandescent bulbs for LED bulbs. As under this initiative, led lights are offered to citizens at much lower subsidized rates than those in the market. So far, people had to pick those subsidized LEDs from various government outlets. But now, subsidized LEDs are just a few clicks away! Energy Efficiency Services Ltd (EESL) has partnered up with Snapdeal to deliver LED lights to people's doorstep for flat Rs. 99.
E-commerce is an excellent platform to reach maximum of the masses. And so, partnership of EESL with e-commerce giant Snapdeal will greatly support the implementation of Centre's Domestic Efficient Lighting Programme (DELP). As per reports, this tie-up has enabled EESL to expand their reach to more than five thousand cities and towns across the country. Now, anyone from anywhere in India can logon to Snapdeal and buy a maximum of 10 LED bulbs at a discounted price of Rs. 99!
With DELP, the government is aiming to replace 77 crore incandescent bulbs sold across country with latest energy-efficient LED bulbs. Achievement of this target would result in reduction of 20,000 MW of power, 105 billion KWh of energy and reduction in Green House Gas (GHG) emissions equivalent to 80 million tones of CO2 per annum. Eventually, consumers across the country would also save whooping Rs. 40,000 crore in electricity bills every year!