Wondering how to register for DELP Delhi? Then, look no further. Here you find how you can register for the scheme at www.eeslindia.org/Delhi-Launch to get Prakash Path LED Lamp of Rs.10.
In India, many people are still unaware about the energy-efficient LED lights. So to make them aware about the benefits of the LED lights and to spread the message of energy conservation in the country, Prime Minister of India: Mr. Narendra Modi launched a new scheme for LED bulb distribution. Under Domestic Efficient Lighting Programme (DELP) in Delhi and a National Programme for LED-based Home & Street Lighting scheme, LED bulbs will be distributed for Rs. 10 to all domestic consumers who register for DELP online or offline.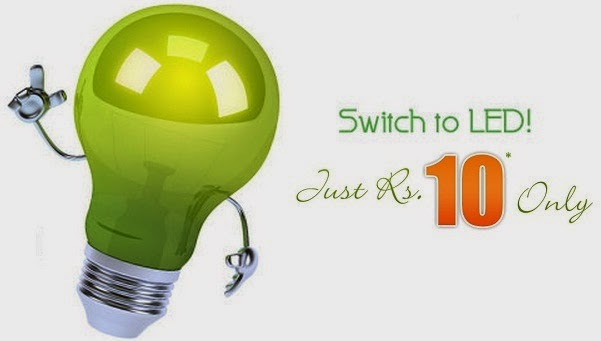 The aim of this initiative is to reduce energy consumption in the country & save the environment. Initially, the scheme will be available in Delhi, starting from March 2015. The whole project of installing LED bulbs (for domestic and street-lights in 100 cities) will be completed until March 2016.
Domestic consumers will get LED bulbs worth Rs 400-500 for an initial payment of Rs.10 each. But, they have to pay Rs.120 for each LED bulb. Rs.10 per month will be added to their electricity bill for 12 months. The total amount you have to pay for each LED bulb is Rs.130.
The LED bulb will come with 3 years free replacement warranty. You can buy only two LED bulbs under this scheme. By switching to one LED bulb, you can save Rs.162 annually.
Registration Process

Pre-registration for DELP Delhi has been started. Delhiites can register for the DELP Delhi via two ways: online and SMS.
Online: Logon to www.eeslindia.org/Delhi-Launch and click on Delhi DELP pre-registration banner located on the right-hand side of the homepage. Just, provide your CA Number found on your electricity bill and enter the Captcha Code. Your registration will be completed.
SMS: You can send a SMS to a designated number.
Energy Saving and cost effectiveness of LED Bulb

Light Type
Parameter
Units
Incandescent
CFL
LED
Life Span
hours
1,500
10,000
50,000
Wattage
watts
60
14
6
Power consumed per hour
kWh
0.06
0.014
0.006
Cost of usage Rs.6 per kWh
rupees
0.36
0.084
0.036
Cost of usage for 50000 hours
rupees
18000
4200
1800
Bulbs needed for 50000 hours of running
no of bulbs
33
5
1
Bulb Cost
rupees
10
120
400
Cost of replacement
rupees
330
600
400
Total 50000 hour lighting cost
rupees
18330
4800
2200
Ratio of cost
ratio
8.3
2.2
1.0
Source: eeslindia.org/delp-delhi
Recommended Read: