People generally don't make small sacrifices at present, which may provide them huge rewards in the future. They see LED flashlights, LED indicator lights on electronics and the LED flash on phone daily, but never use the long-lasting and most efficient LED bulbs at home. The reason behind that is high price of LED bulbs. LED bulbs are pricey compared to incandescent and CFL lights due to their electronics and heat-management features. There is good news for those who don't switch to LED bulbs just because of their high price. Now, LED bulbs will come with lower price tag throughout the world.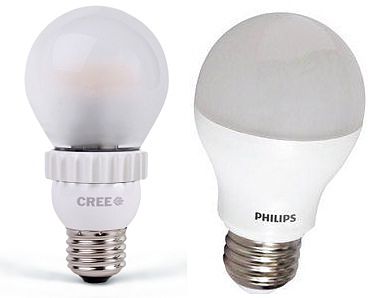 An electronic chip maker, Cree Inc. introduced a game-changing series of LED bulbs at affordable price in March 2013. Although Cree LED bulbs are low-priced, they shine as brightly as other lights and are 84% more energy efficient than traditional bulbs. They use Cree LED Filament Tower Technology and offer optically balanced light source in all directions.
They look like incandescent & fluorescent bulbs in terms of design. They don't makes noise and contain mercury like other LED bulbs. They have a protective rubberized coating on the glass bulb. Cree low-cost LED light bulbs are available at The Home Depot in two different output capacities such as 40-watt and 60-watt.
The 40-watt bulb provides 450-lumen and uses just 6 watts. It is accessible in 2700K color temperature. The 60-watt bulb provides 800 lumens and uses just 9.5 watts of energy, which means extremely efficient. The 60-watt bulb is available in two color temperatures: warm white (2700K) and day light (5000K).
The 40-watt retrofit LED light bulbs cost $9.97, the 60-watt retrofit bulbs cost $12.97 while the 60-watt day light bulbs cost $13.97. These bulbs last around 25 times longer compared to other lights and include a 10-year warranty. As per industry sources, Cree's inexpensive strategy decreased the profit margins for distributors.
Philips Electronics is also offering low-cost LED bulbs. You can buy Philips's 10.5-watt LED at The Home Depot for less than $15, which is 50% less compared to competing LED bulbs. The company plans to provide a same bulb for below $10 by the end of 2013. Philips 10.5-watt LED bulbs are as bright as 60-watt incandescent lighting. They are even 80% more efficient and don't have mercury. These bulbs cannot be dimmed like expensive ones.
Because of the LED light bulb price competition (which started by Cree), some LED firms are decreasing the lifespan of the LEDs from 40,000-50,000 hours to 15,000-20,000 in order to decrease price. They have also simplified designs and lowered the brightness efficiency.