Just look at these incredible LED light creations! You're sure to be spellbound by the heights of creativity people have attained with LEDs.
LEDs have solidified their place in lighting market. They're simply brilliant, flexible, long-lasting, and superbly efficient. From fashion to art to design, they are being used in almost every field imaginable today. So, it's no surprise that creative people from all around the world are using this intelligent lighting system for various creative projects. And some of them have actually taken the capabilities of LED lighting to a whole new level. Well, now get ready to get stunned as we are going to present here a few of the most jaw-dropping creations made with LED Lights!
Top 11 Awe-Inspiring Creations with LED Lights
1. The Spectacular Cathedral of LED Lights
© Image Credit: Huffingtonpost.com
This beautiful cathedral-like structure called – the Luminarie de Cagna – was the star of the show at the 2012 Light Festival in Ghent, Belgium. With the help of 55000 colored LED bulbs, a wooden colonnade was literally transformed into a beautiful radiant cathedral with Renaissance & Romanesque arches. And you'll be surprised to know that this majestic piece of art standing 91 feet tall used just 20 kWh of energy!
2. The Brilliant Bay Lights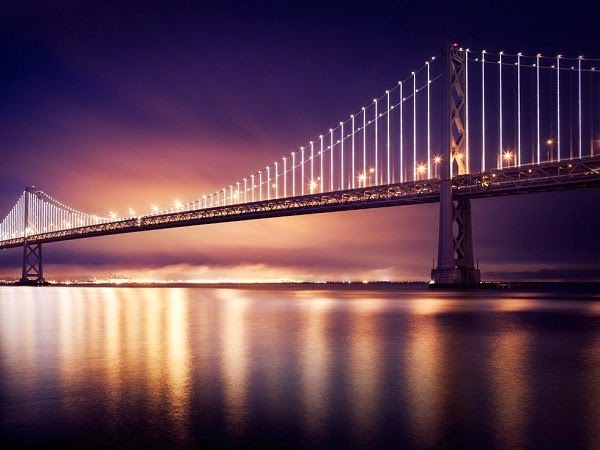 © Image Credit: ericherrmann.com
This is the monumental LED light sculpture that turns the Bay Bridge into a mesmerizing piece of LED artwork. The installation, designed by world-popular light artist Leo Villareal, is currently the world's largest LED lighting sculpture. It consists of 25K white LEDs arrayed along the 1.8-mile (2.9 km), 500-foot high western span of the San Francisco – Oakland Bay Bridge. Perhaps the most amazing part is its lighting patterns that never repeat.
3. Motion Exposure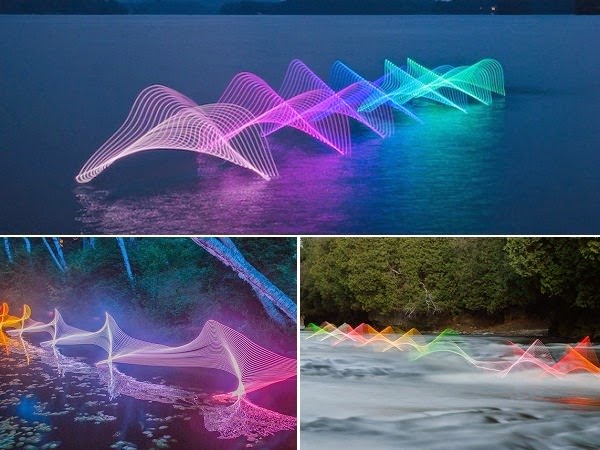 No, these photos are neither photoshopped nor are they composite images. These are the beautiful LED light paintings that captures the movements of kayakers, canoers, and swimmers as they paddle or swim through the water. Ontario-based photographer Stephen Orlando is the man behind creating these awesome 3-dimensional Spirograph patterns on top of the water. He attached customizable LED lights to kayak and canoe paddles, and swimmers, and then using long exposure photography he removed signs of human presence while capturing the every single stroke of movement across the water.
4. The Travelling Time Machine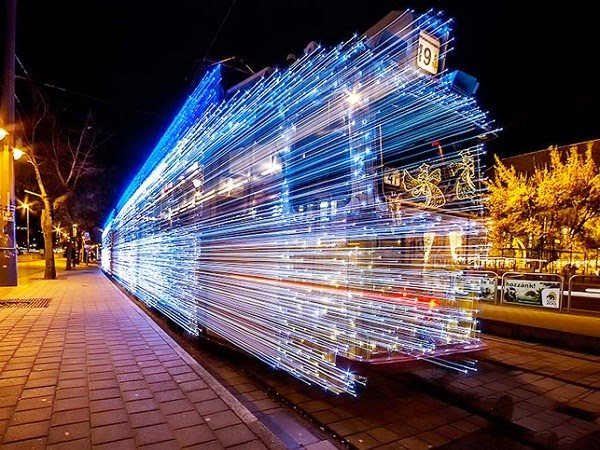 © Image Credit: inhabitat.com
Every winter, the Hungarian capital of Budapest decorates its trams with 30,000 blinking LED lights to the delight of locals and visitors. The vehicles covered with so many bright twinkling lights indeed makes for a mesmerizing sight on evenings. But the real wonder comes out when they're photographed with long exposure: these trams resemble to cosmic vessels or futuristic time machines travelling through the beautiful city streets!
5. The Glowing River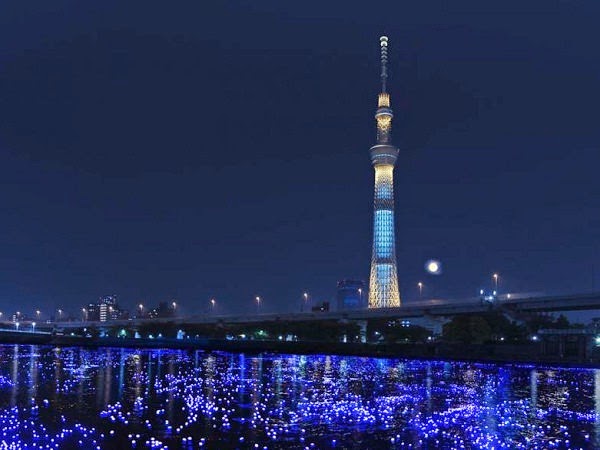 © Image Credit: japantimes.co.jp
For centuries, the Japanese people have been gathering at the Sumida River of Tokyo to celebrate the Hotaru festival of watching the fireflies floating on the river. In year 2012, the festival took a modern twist and people got a different sort of spectacle with electric 'fireflies'. Thousands of LED ping pong balls (dubbed "Prayer Stars") were released to replicate the brightness of the fireflies. Seriously, the glowing LED spheres floating on water made a splendid light spectacle to behold.
6. Automated Illuminating Stairs
© Image Credit: examiner.com
Just imagine the stairs get lit up automatically as you climb or descend, and then after a short period of time, they each turn off in succession. How cool it would be, isn't it? Well, this can now be a reality in home's decor. Interactive Furniture has developed the Automatic LED-Stair-light that not only spruces up an otherwise boring staircase and save energy, but also help prevent tripping accidents happening in the dark.
7. The coolest Cosplay of Ragyo Kiryuin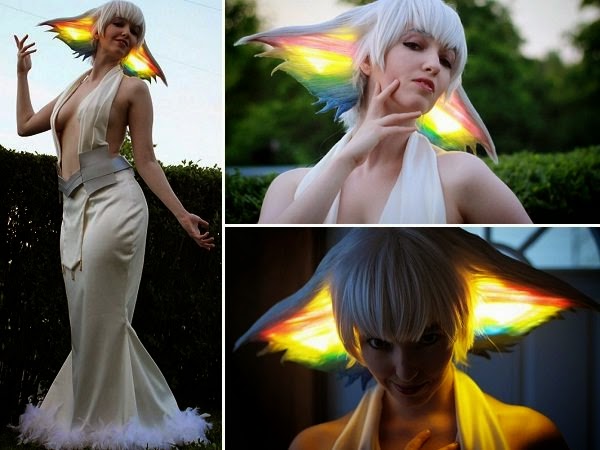 This is truly the best Ragyo Kiryuin cosplay we've ever seen! Many people have cosplayed Ragyo Kiryuin from the popular anime Kill La Kill, but this one is truly unique and interesting. The rainbow wig, infused with super-bright LEDs, creates a stunning glowing effect and it takes the entire look to a whole new level.
8. The Critical Hit LED Dice Set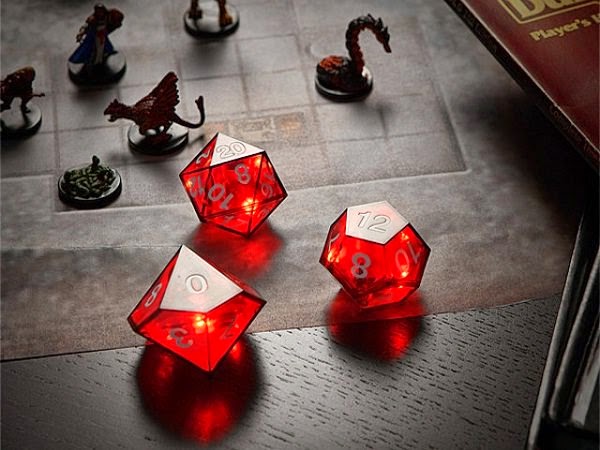 © Image Credit: technabob.com
This awesome dice set (specifically a d10, d12, and d20) is a must-have for D&D game fans. Made of red opaque plastic with an LED inside, they magically lights up when their highest possible number is rolled. So, one thing's for sure – these flashy dice will make you cheer and dance every time you hit the "jackpot".
9. LEDoor Handle
A door knob that serve as a night light, emergency light, and as a flashlight! Created by a trio of Korean designers, this multi-functional handle door is not only simple to use but also charges on its own. During night, the handle will glow gently to help you to sleep or to help guide to the door in case everything goes black. Should an unexpected blackout occur, you can reach for the handle, pull it off and it will act as a full powered flashlight for you.
10. The captivating 'Stick Figure' Halloween Costume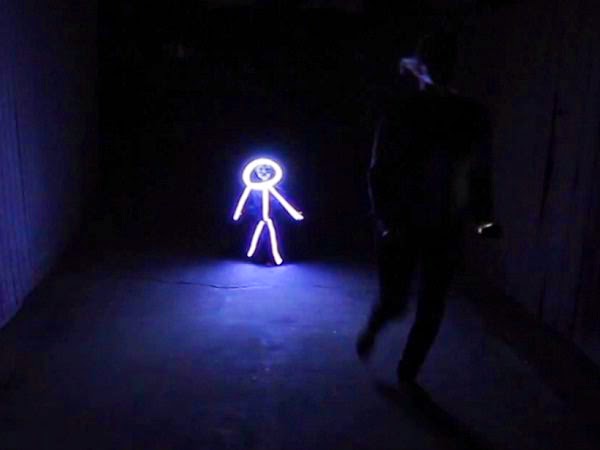 © Image Credit: ryot.org
Certainly, you'll not find a brighter & more striking baby Halloween Costume than this! Made out of LED lights and Velcro, the costume indeed make a baby look like a glowing 'stick creature' in the dark – which is both adorable and scary at the same time!
Bonus
DIY Idea: Radiant Balloon Lights for birthday party
© Image Credit: brit.co
Next time when you host a party or get-together, don't use those same old boring streamers and balloons for decoration. Instead, kick it up a notch and convert monotonous balloons into floating globes of light! Simply, insert tiny glowing LED lights into balloons before blowing them up, and scatter these beautiful LED balloons around to create a magical atmosphere for your party.
Recommended Read: