Advertisement
In the recent times, India is getting huge exposure in the LED lighting field. LED lighting plays vital role for lighting many electronic devices. These devices are automobiles, computers, city lighting, cell phones, televisions, etc. LED is really getting popular due to its several benefits like energy efficient, low power requirement and offers a long life span. It is widely used in commercial, private and public places also.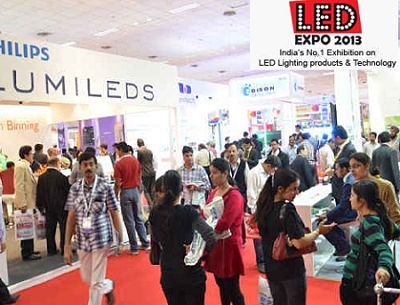 LED Expo is dedicated to the science and technology especially LED application. It contributes in shaping the future of this market. It can be said that it is best opportunity for both exhibitors as well as visitors in network marketing. The exhibitors will get a chance to present their products at such a big platform and they can earn a lot of business as well as goodwill from it. The best thing is that you can meet a large number of customers at one place only. The success of expo is increasing from year to year due to its advantages. These events are the best chances for all the exhibitors and visitors across the world as it is the best for networking. According to industry report, the LED market is likely to grow at a CAGR of 41.5% by 2015. Thus, LED is a green and clean source of energy.
Advertisement

LED Expo Mumbai 2013
Now, Mumbai is going to get a big exposure… as LED Expo 2013 is taking place on May 04 2013 to May 06 2013 at Nehru Centre, Worli, Mumbai, India. The trade show is organized by Mex Exhibitions Pvt Ltd. The event mainly concentrates on Electronics, Electricals & Lighting sector in India. This event will set a new level of technology and more innovation and creativity in the industry. The event is also significant due to the presence of many experts from various fields like manufacturers, lighting industry professionals, design engineers and many other experts from various fields. Moreover, audience will come to know about the new technology and innovation in the industry.
This event is very beneficial to exhibitors as it is a golden opportunity for their business. This is really a great platform to display their products and design; ultimately, this will bring new business and goodwill to their business.
The visitors at LED Expo 2013 include Interior Designers, Architects, Lighting Designers, Dealers & Distributors, Government Bodies & Planning Departments and many more. On the other hand, the list of exhibitors includes LED Manufacturing Equipment/Devices, LED Reading Lights, LED Video Walls, Lenses, Interior Lighting, LED Screens, and LED Encapsulation Material etc.
LED Expo Delhi 2013
Delhi LED Expo will start on December 19, 2013 and end on December 21, 2013 at Pragati Maidan, Delhi. The expo will be useful in maintaining a bright future in the industry. For the first time in Delhi, it was held on January 2009 that had received a huge success and praise from visitors as well as exhibitors. During its first edition, it had generated business worth of crores and several business enquiries.
In the list of visitor it includes lighting industry professionals, Architects, designers, and many other important people whereas in the list of exhibitors it includes LED manufactures, Energy Saving Lighting Zone, LED Badges, LED Signs & Displays, Casino & Disco Lighting, Automotive lighting, and other Products. The main focus of the event will be different lighting technology and its other segments, which are growing rapidly in the LED market. So, it is the huge market for visitors as well as exhibitors.
Advertisement